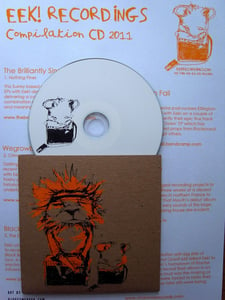 £

3.00
The first release from eek is a six track comp featuring six bands I've made records with over the last year.
All done on recycled card and hand screen printed. Art by the incredible Diggy (www.diggysmerdon.com)
There are only 100 copies of this and there ore only 15 available from here, the rest are with the bands so to get your hands on one you need to check them out live!
Tracklisting:
1. Nothing Finer-The Brilliantly Simple
2. Paths/Trails-Killington Fall
3. Crimean War-Wegrowbeards
4. Good For Us-That Mouth
5. The Electric Circus-Blackbox Red
6. Remember-Granit 665